Sprayable Turf Nutrition, Redefined.
Posted By Ben Pease, PhD, Agronomist on June 01, 2023
---
Combining HCU and Foltec SG Minors creates an ideal tank mix of nitrogen, humic acid, and minor elements. Applied anytime during the growing season, this pair delivers exceptional performance without breaking the budget.
When thinking about proven results and adaptability for fairway-based nutrition, sprayable urea is a cost-effective mainstay. Humic Coated Urea (HCU) offers all of the advantages of sprayable urea coupled with the soil-enriching benefits of a potassium humate coating, which provides a rich carbon source to feed soil microbes. The addition of Foltec SG Minors provides full-spectrum nutritional benefits to the entire turfgrass ecosystem.
---

HCU - HUMIC COATED UREA
HCU granules represent a sensible approach to nitrogen application, combining urea and humic acid in a 100% soluble granule. While providing equal or better performance than leading stabilized nitrogen products, HCU granules also offer strong economics in use. To learn more about HCU granules, click here.


FOLTEC SG MINORS

Foltec SG Minors is a proprietary combination of dry, 100% soluble granules that contains selected secondary and minor elements, along with sea plant extract and humate. With easy to understand coverage and application rates, Foltec SG truly allows you to spray smarter. To learn more about Foltec SG Minors and the rest of the Foltec SG line of products, click here.


Take your fairway fertility program to the next level for as little as $18/acre.*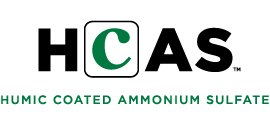 INTRODUCING HCAS
Humic Coated Ammonium Sulfate (HCAS) provides a nitrogen source ideal for cooler months, representing a complementary solution to HCU applied during the warmer, summer months. Click here to learn more.

---
MIXING INSTRUCTIONS
Foltec SG Minors has been tested and shown to be very soluble with adequate agitation, typical of that provided by most self-contained spray units. When applying Foltec SG products with other active ingredients, it is important to follow recommendations for proper mixing order.
*Pricing for demonstrative purposes only. Actual pricing may vary. Check with local distribution for additional information. Pricing is subject to change.
---
Ben Pease is the Agronomist for The Andersons Turf & Specialty business, responsible for research, service, and technical support. Ben received both his bachelor's and master's degrees from the University of Wisconsin, and earned his doctorate degree from Iowa State University. Ben has also served as the Assistant Superintendent for Cherokee Country Club (Madison, WI) and Whistling Straits Golf Courses (Sheboygan, WI). To contact Ben, click here.
---
© 2023 The Andersons, Inc. All Rights Reserved. The Andersons logo is a registered trademark of The Andersons, Inc. CarbonCoat, HCAS and PCHCU are trademarks of The Andersons, Inc.