Send Pests Packing with GrubOut and GrubOut Plus
Posted on June 07, 2021
---
Pests can ruin even the best of outdoor spaces. Send pests packing this summer with the GrubOut family of products, designed to tackle damaging sub-surface pests and pesky surface feeders alike.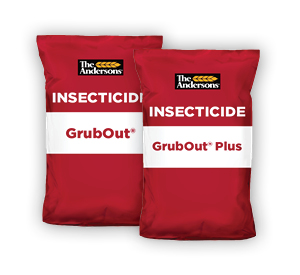 GrubOut (imidacloprid) provides season-long control of white grubs, aphids, root weevil, Japanese beetles, and many other sub-surface pests.
GrubOut Plus features imidacloprid and lambda-cyhalothrin, a combination that provides season-long control of sub-surface pests and 30-day control of surface-feeders like army worms, sod webworms, chinch bugs, and more.
GrubOut and GrubOut plus are featured in select fertilizer blends, providing maximum flexibility.
Product Name
Label
GrubOut DG
APTDGGB40.2
12-0-0 + GrubOut
ASP121UGB5
15-0-4 + GrubOut
ASP15UMR5.5
21-0-4 + GrubOut
ASP21UGB5.40
24-0-6 + GrubOut
ASP2415GB5
0-0-7 + GrubOut
ASPK7GB5
17-0-3 + GrubOut Plus
ASP178UIL5
0-0-7 + GrubOut Plus
ASPK7IL5
FOR MORE INFORMATION:
Please complete the form, and we'll get you in touch with your Territory Manager from The Andersons.