Send Pests Packing with GrubOut and GrubOut Plus
Posted on May 26, 2022
---
Pests can ruin even the best of outdoor spaces. Send pests packing this summer with the GrubOut family of products, designed to tackle damaging sub-surface pests and pesky surface feeders alike.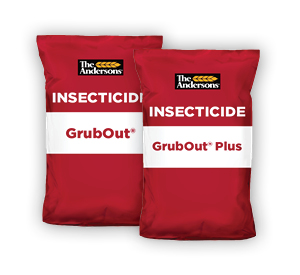 GrubOut (imidacloprid) provides season-long control of white grubs, aphids, root weevil, Japanese beetles, and many other sub-surface pests.
GrubOut Plus (imidacloprid and lambda-cyhalothrin) provides season-long control of sub-surface pests and 30-day control of surfacefeeders like army worms, sod webworms, chinch bugs, and more.
GrubOut and GrubOut plus are featured in select fertilizer blends, providing maximum flexibility.
Product Name
Label
GrubOut DG
10005682
12-0-0 + GrubOut
10003591
15-0-4 + GrubOut
10002160
21-0-4 + GrubOut
10003522
0-0-7 + GrubOut
10006252
17-0-3 + GrubOut Plus
10003481
FOR MORE INFORMATION:
Please complete the form, and we'll get you in touch with your Territory Manager from The Andersons.