Next-Level Fall Lawn Care Nutrition
Posted By Ben Pease, Agronomist on September 13, 2021
---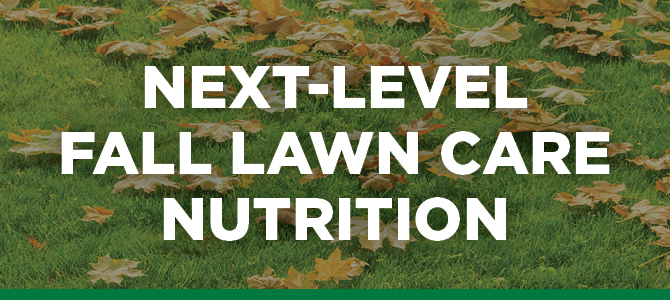 Fall fertilization is one of the best tools for promoting recovery from summer stress as the turfgrass plant stores much of its carbohydrate supply during this time, rather than consuming it for shoot growth. Nitrogen fertility applied in the fall has a positive effect on turfgrass growth and performance during the fall and the following spring. Fall phosphorus applications are also important if overseeding during the fall months, as phosphorus will promote seedling establishment through increased root growth.
Featuring Humic Coated Urea (HCU), these products are designed to simplify application, strengthen soil, and improve overall plant health.
Humic Coated Urea (HCU) is a cost-effective 44-0-0 nitrogen granule that is bonded with potassium humate. This proprietary technology delivers important soil and plant health benefits that traditional nitrogen sources cannot provide.

Ideal for a wide variety of applications, including new turf establishment and maintenance, 9-12-6 Fertilizer with HCU contains SmartPhos® slow-release phosphorus, Black Gypsum DG® and humic acid.

The limestone filler in this product has been replaced with Black Gypsum DG, an amendment that provides secondary nutrients (calcium and sulfur), helps to relieve soil compaction and salinity, and improves root development.



Don't forget your soil! A fall application of a carbon-based soil amendment can boost the efficiency of fall fertilizer applications and better prepare turf for next spring.
Humic DG CharX harnesses the power of humic acid and biochar in a 50/50 blend, providing the benefits of the more quickly-available humic acid and the long-term soil building qualities of biochar. Along with carbon, biochar also contains karrikins, a family of bioactive compounds that stimulate root growth.

---

---
Ben Pease is the Agronomist for The Andersons Turf & Specialty business, responsible for research, service, and technical support. Ben received both his bachelor's and master's degrees from the University of Wisconsin, and earned his doctorate degree from Iowa State University. Ben has also served as the Assistant Superintendent for Cherokee Country Club (Madison, WI) and Whistling Straits Golf Courses (Sheboygan, WI). To contact Ben, click here.
---
© 2021 The Andersons, Inc. All Rights Reserved. Black Gypsum DG and SmartPhos are registered trademarks of The Andersons, Inc. HCU, Humic DG, and CharX are trademarks of The Andersons, Inc.