Introducing Our Humic Research Trials Brochure
Posted by Ben Pease, Agronomist, PhD on March 01, 2022
---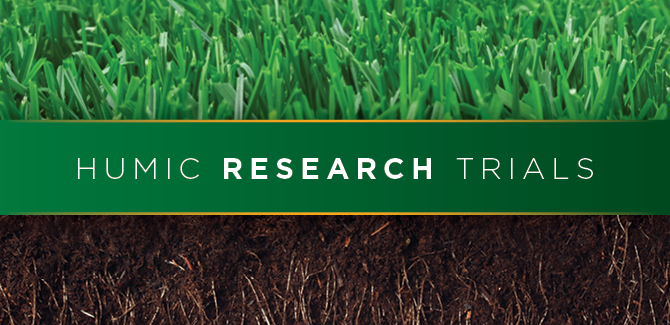 From groundbreaking nutrient delivery systems and coated technologies to next-generation soil amendments, innovation is at the heart of everything we do.
Our research partners play a key part in our product development process, working directly with our Turfgrass Agronomy Team to ensure realistic research conditions and determine product application strategies that translate to real-world success.
We are very proud to introduce our Humic Research Trials brochure, which provides an overview of our complete line of carbon-based products and highlights our humic acid and fertility research from the past few years.
FEATURED RESEARCH TOPICS
Can humates reduce nitrogen usage?
Can humates increase nitrogen efficacy?
Can humates increase plant-available nitrogen?
How do roots respond to humic-based fertilizers?
Does the addition of humates to insecticide and herbicide applications compromise turfgrass quality and performance?
Our newest carbon-based products, Poly-Coated Humic Coated Urea (PCHCU™) and Humic Coated Ammonium Sulfate (HCAS™)
OUR RESEARCH PARTNERS
Our research collaborators are selected based on their ability to provide unbiased and reliable results. As one of the most trusted names in turfgrass management, we work hard to ensure that our research partnerships and the resulting deliverables generate that same level of confidence.
While our university and third-party relationships stretch far and wide, this guide is designed to provide a summary, including only the most relevant, humic-centric data from a handful of our featured partners.
ABOUT HUMIC SUBSTANCES
Humates, or humic substances, are a naturally-occurring, mined material that make up 60-80% of soil organic matter1. Like coal, humates occur as a result of the compression and degradation of nutrient-rich deposits of plant and animal remains. This produces a highly reactive, carbon-rich material that serves as a powerful addition to a turf management program.
Humic acid is a natural soil conditioner, organic chelator, and microbial stimulator that provides the following benefits:
Supplies an oxidized, soluble carbon source, leading to improvement in long-term soil pH
Enhances efficiency and availability of applied nutrients
Chelates soil micronutrients, increasing their availability
Improves cation exchange capacity
Enhances soil structure and biology
Reduces water requirements by increasing water-holding capacity and enabling better water penetration in the soil
INTRODUCING PCHCU and HCAS
Our newest carbon based products, Poly-Coated Humic Coated Urea (PCHCU™) and Humic Coated Ammonium Sulfate (HCAS™), exemplify our commitment to deliver next-generation products and delivery technologies.
To learn more about PCHCU and HCAS, click here.
---
---
Ben Pease, PhD is the Agronomist for The Andersons Turf & Specialty business, responsible for research, service, and technical support. Ben received both his bachelor's and master's degrees from the University of Wisconsin, and earned his doctorate degree from Iowa State University. Ben has also served as the Assistant Superintendent for Cherokee Country Club (Madison, WI) and Whistling Straits Golf Courses (Sheboygan, WI). To contact Ben, click here.
©2022 The Andersons logo is a registered trademark of The Andersons, Inc. PCHCU and HCAS are trademarks of The Andersons, Inc. 1. Brady, Nyle C, and Ray R Weil. The Nature and Properties of Soils. 14th ed., Pearson Education, 2008.