Fall into Success with Humic DG
Posted by Tony Goldsby, Agronomist on September 24, 2019
---
Cool-season grasses such as creeping bentgrass have a diurnal growth pattern, meaning much of the growth occurs during the cooler temperatures of spring and fall. Following the stressors that are inflicted during high summer temperatures, fall makes an ideal time for improving your turfgrass stand.
One of the key tools in accomplishing this mission is through fall fertilization. Many turf managers are leery of applying too much fertilizer during the spring months, as it can lead to excessive shoot growth and increased mowing requirements. During the fall months, however, air temperatures are reduced and much of this top growth is avoided, which allows the plant's energy streams to focus more on root development.
Another aspect of improving your turfgrass stand is overall soil health, which aids in plant growth and acts as a storage reserve for both nutrients and water.
In many scenarios, having soil with poor physical and chemical properties can lead to shortfalls in turfgrass color and quality. Humic substances account for the majority of soil organic matter and aid in improving both physical and chemical characteristics of soil. By combining your fall fertility applications with a product like Humic DG, you'll be improving both the efficacy of your fertilizer and overall soil health.

---
Humic DG is a powerful humic acid-based soil amendment containing a complete spectrum of humic substances. These homogenous granules contain 70 percent humic acid and feature Dispersing Granule (DG) Technology. While increasing phosphorus uptake, Humic DG also enhances nitrogen efficiency and micronutrient availability. Humic DG improves water infiltration, increases CEC, and improves soil structure. Explore Humic DG products here.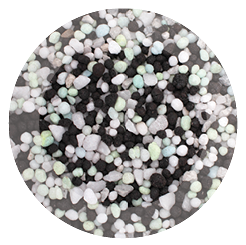 Humic DG is also available in unique fertilizer blends that provide uniform growth, extended nitrogen feeding, and enhanced nutrient uptake.



Golf and Sports Turf Products:
16-0-8 with 19% Humic DG

Lawn and Landscape Products:
18-0-7 with 20% Humic DG

---

Genesis Rx™ 5-7-5 is a high-quality NPK fertility blend and soil amendment ideal for fall applications on high-quality, putting-height turfgrasses such as creeping bentgrass. Genesis Rx 5-7-5 features a combination of readily-available and slow release nitrogen, secondary and minor elements, and Dispersing Granule (DG) Technology. This unmatched combination provides turfgrass with the necessary nutrition for optimal growth.
Genesis Rx 5-7-5 also contains 21.5% Humic DG™ (by weight), a humic acid-based product that delivers a carbon-rich food source to help stimulate soil microorganisms. Humic DG enhances nitrogen efficiency and micronutrient availability, improves water infiltration, increases CEC, and improves soil structure.
To learn more about Genesis Rx 5-7-5, click here.
---
Why Humic Acid?
Humic acid is a natural soil conditioner, organic chelator, and microbial stimulator that provides the following benefits:
Supplies an oxidized, soluble carbon source, leading to improvement in long-term soil pH
Enhances efficiency of applied nutrients and increases availability of soil phosphorus
Retains soil moisture and enables better water penetration in the soil, resulting in reduced water requirement
Chelates soil micronutrients, increasing their availability
Use the Turf Nutrition Tool (TNT) to create custom nutrition programs and model their release. With the TNT, run scenarios with several different products and application timings to assist in determining the combination that best suits your needs. The completely reimagined tool offers mobile-friendly access from any device, an easy-to-use interface, new product listings, and the ability to save and share created programs.
---
---
Anthony "Tony" Goldsby is the Research Agronomist for The Andersons Professional Products business, responsible for research, service, and technical support. Prior to joining The Andersons, Tony received both his master's and doctorate degrees from Kansas State University with an emphasis in turfgrass management. Specializing in Integrated Pest Management (IPM) and turfgrass science and management, Tony is a firm believer in providing turfgrass education and enjoys helping customers establish or adjust their IPM or fertility programs.
©2019 The Andersons logo is a registered trademark of The Andersons, Inc. Humic DG is a trademark of The Andersons, Inc.