Agronomy Alert: Spider Mites
Posted by Dave Dyson, Agronomist on July 21, 2020
---
Due to the recent dry spell in some of our territories, two-spotted spider mites (Figure 1) are making their appearance this year in some of our soybean fields.
Figure 1: This picture from Purdue University shows the Two-Spotted Spider Mite up close and personal.
The two-spotted spider mite really does not like to feed on soybean plants, but they will if their food supply is depleted in the side ditch or waterways. The best defense is to not mow the side ditches or waterways along soybean fields. If the spider mites start to infest a soybean field the first sign will be half moon "bronzed" areas along the edges of the soybean fields, usually near closely mowed ditches or waterways, Figure 2.
Figure 2: The side ditch along this field just west of Roann, IN has been cut so close that the spider mites have depleted their food supply and are moving into the adjacent soybean field.
If you need to go on the offensive, an organophosphate insecticide is the best option due to the fumigation properties of the compound.
FOR MORE INFORMATION:
Please complete the form, and we'll get you in touch with your Territory Manager from The Andersons.
---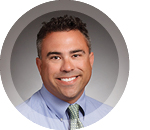 Dave Dyson is a regional agronomist for The Andersons' Farm Centers which are located throughout Ohio, Michigan, and Indiana. He is an Indiana native and grew up on a dairy farm in Miami County. A graduate of Purdue University with a degree in Crop & Soil Science, Dave has a deep knowledge of various agronomic topics and is committed to helping growers improve their crops. If you have any questions, Dave can be reached at david_dyson@andersonsinc.com.
© 2020 The Andersons, Inc. All Rights Reserved.