Update from the Field: SDS, More than just a Fungus
Posted on August 28, 2020
---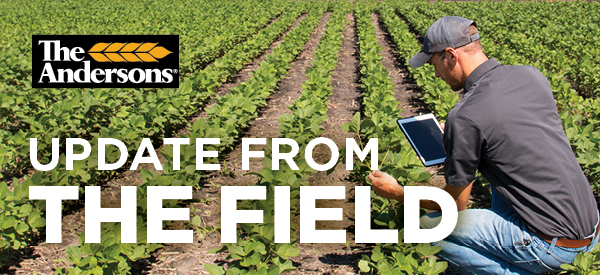 As my travels take me across the Corn Belt, I have noticed an increase of sudden death syndrome (SDS) appearing in soybean fields. SDS can be detrimental to soybean yield if proper precautions are not taken. According to Iowa State University, "From 1999 to 2004, average losses in the U. S. [due to sudden death syndrome] were estimated at $190 million a year, and the disease is spreading and intensifying."
Sudden death syndrome is a fungal disease caused by Fusarium virguliforme. This fungus lives in the soil and can colonize the roots of the soybean plant. The affected plants begin showing symptoms in mid- to late-August. The affected leaves present as yellow spots coalescing to form chlorotic blotches between the leaf veins, Figure 1. The above ground symptoms are caused by toxins that are translocated throughout the plant, ultimately killing the leaves and plant. The necrotic leaves tend to twist, curl and fall from the plant. The premature and sudden death of the plant is where the disease gets its name. As the plant shuts down, the flowers and pods start to abort, creating smaller soybeans seeds and reducing the number of pods on the soybean plant.
Figure 1: Symptoms of soybean sudden death syndrome. Photo from Iowa State University.
How can SDS be prevented or reduced in soybean fields? Studies have shown that the fungus lives on crop residue. Based on that research, a reduction in infected residue will help control the fungi populations. For those who practice traditional tillage practices, deep tillage will offer control. However, deep tillage can also increase compaction and erosion, two yield limiting factors. For those in a no-till cropping system, tillage is not an option for control.
The key to properly managing residue is minimizing infected tissue while not disturbing the soil. In order to accomplish both, The Andersons has developed a program to rapidly decompose the previous crop's residue through the introduction of microorganisms. This program includes the application of Bio Reverse™, a robust microbial package, immediately following harvest. When 1 pt/ac of Bio Reverse is applied with a fall herbicide application, 300 billion colony forming units (CFUs), four species of bacteria, and one variety of yeast will be introduced into the soil system. Utilizing this program to reduce residue and kill winter annual weeds is the one-two punch that can deliver higher yields next year.
Another essential part of the solution is to check for Soybean Cyst Nematodes (SCN), as their presence will increase the chances of soybeans being infected with SDS. It is critical to begin pulling soil samples in these SDS-infected areas to confirm the presence of SCN. The presence of SCN is a reliable indicator that a seed treatment should be applied next spring. A seed treatment can reduce the presence of SCN, thereby reducing the pressure of SDS.
In conclusion, a multi-prong approach is necessary for management of SDS. Planting resistant soybean varieties, eliminating invasive weeds, reducing infected residue, and minimizing nematode populations are all facets of a well-rounded control plan. Sudden death syndrome is ranked second in causing damage to the world's soybean crop, according to Pioneer.
FOR MORE INFORMATION:
Please complete the form, and we'll get you in touch with your Territory Manager from The Andersons.
---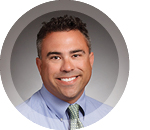 Dave Dyson is a regional agronomist for The Andersons' Farm Centers which are located throughout Ohio, Michigan, and Indiana. He is an Indiana native and grew up on a dairy farm in Miami County. A graduate of Purdue University with a degree in Crop & Soil Science, Dave has a deep knowledge of various agronomic topics and is committed to helping growers improve their crops. If you have any questions, Dave can be reached at david_dyson@andersonsinc.com.
© 2020 The Andersons, Inc. All Rights Reserved. Bio Reverse is a trademark of The Andersons, Inc.