Update from the Field: Better Life through Chemistry
Posted on September 03, 2020
---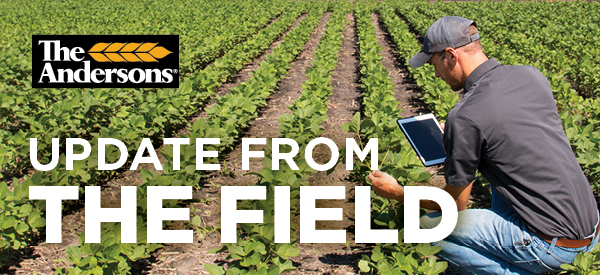 Across the Corn Belt, the soybean crop is maturing quickly, and the forecasted warmer weather will accelerate these changes. As the leaves and the pods start to change color, the question arises about when and how to get a jumpstart on harvest. There are some advantages that come with getting your crop out of the field early: harvesting before winter, not waiting in long elevator lines, attaining higher premiums for early delivery, allowing more time for fall field work, and destroying herbicide resistant weeds prior to seed set.
A solution for how to harvest crops early is to terminate with an herbicide application. There are two main problems that can occur when trying to terminate crops early: 1) correctly timing the application, and 2) figuring out which chemicals are best to achieve the desired response. The timing of application can be determined by examining the soybean plants and seedpods. If 65% of the seed pods or 50% of the leaves have started to turn color, the soybean plant is physically mature. Terminating the plant at this point will not harm yield, Figure 1. Remember to always read and follow the directions on the chemical label. The application of 16 oz/ac of a paraquat-based chemical with the addition of a silicone-based adjuvant, sprayed at a high rate (20+ gal/ac) of water carrier, is typically effective to terminate a soybean crop. Paraquat is a cell membrane disruptor herbicide, classified in Group 22. This family of chemistry works better if the active ingredient gets distributed evenly across the entire plant, thus the recommended application of a silicone-based adjuvant at a high rate.
Figure 1: This picture, taken on 8/20/20 near Disco, Indiana, shows a soybean field that has reached the stage when 65% of the seed pods have reached a mature brown color.
When applying paraquat, consider adding Bio Reverse™ to the tank. Bio Reverse promotes residue decomposition and easily mixes with herbicides, Figure 2. Apply Bio Reverse at a rate of 1pt/ac. At this rate, Bio Reverse contains 300 billion colony forming units (CFUs) of four different varieties of bacteria and one strain of yeast. These microorganisms will rapidly break down residue and help release nutrients back to the soil while providing a better seedbed next spring. Pairing both paraquat and Bio Reverse acts like a one-two punch; the paraquat destroys the cell membranes, and the microorganisms will consume what is left over.

Figure 2: Bio Reverse should be applied at a rate of 1 pt/ac. This will contain 300 billion CFUs of 4 different variety of bacteria and 1 strain of yeast. These microorganism with rapidly breakdown residue and help release nutrients back into the soil while providing a better seed bed next spring.
In conclusion, if considering using a pre-harvest aid, wait until over 50% of the plant's leaves begin to turn color. Use a spray volume suitable to cover the entire plant; 20gal/ac and a silicon-based adjuvant is recommended to assure good coverage. Apply 16 oz/ac of paraquat and 1pt/ac of Bio Reverse.
FOR MORE INFORMATION:
Please complete the form, and we'll get you in touch with your Territory Manager from The Andersons.
---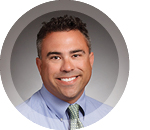 Dave Dyson is a regional agronomist for The Andersons' Farm Centers which are located throughout Ohio, Michigan, and Indiana. He is an Indiana native and grew up on a dairy farm in Miami County. A graduate of Purdue University with a degree in Crop & Soil Science, Dave has a deep knowledge of various agronomic topics and is committed to helping growers improve their crops. If you have any questions, Dave can be reached at david_dyson@andersonsinc.com.
© 2020 The Andersons, Inc. All Rights Reserved. Bio Reverse is a trademark of The Andersons, Inc.