October Agronomy Update
Posted on October 01, 2020
---
Anyone with toddler age children can attest, temper tantrums can come along quickly and with some sort of mantra containing, "I want it now!" Sometimes as I am waiting on limestone to change the pH of the soil, I would like to revert to my toddler days and demand the change to happen immediately. Limestone can be a fickle material to handle and spread. Could there be an alternative to handling large amounts of product and waiting years for the product to become available?
Traditional limestone products take a significant amount of time to breakdown and impact the top six to eight inches of soil where the plants draw nutrients. That time can multiply if the limestone is not finely ground,but problems can develop when applying fine particles. The ability to evenly spread a material decreases when particle size becomes smaller. The industry standard recommendation for limestone is 2-3 tons/acre. The large amount of limestone being applied assures some breakdown early on, but a majority of the limestone will require three to four years for maximum benefit. This uneven breakdown can create pH hot spots in the field. Nutrients become more available to the plant in a specific pHrange, Figure 1, so a high pH hot spot can be as detrimental to the plant environment as low pH.
Figure 1: High soil pH, as well as low soil pH, has a detrimental effect on the availability of nutrients to the plant.
Soil pH not only affects nutrient availability but can extend the life and cause carryover issues for certain chemistries. A high pH will increase the persistence and carryover potential of both the triazine and sulfonylurea chemical families. Likewise, a low pH will Increase the persistence and carryover potential of the imidazolinone chemical family.
Impatience of changing the soil pH is not only governed by the wants, but also by the needs of a crop. It is common to not want to spend borrowed money on an input that will take three to four years to see a return, especially if the ground is rented or on a year by year lease. The Andersons NutraLime®DG product is a great alternative for traditional limestone, Figure 2. The Dispersing Granule technology, otherwise known as "DG" technology, consists of limestone ground into a fine powder, then granulated into a fertilizer sized granule. The granules are held together with a water-soluble binder that allows the product to disperse back into powder when in contact with water (rain, irrigation, dew) after the product is applied. This allows the product to begin to modify the soil pH levels within two weeks.
Figure 2: The Andersons offers NutraLime DG in Hi-Cal or Hi-Mag. Performing a soil test regularly will let your Trusted Ag Advisor from The Andersons know what type best suits the needs of your soil.
In conclusion, it is beneficial to apply small amounts of calcium or magnesium with your fertilizer every year instead of overloading your soil with 2-3 ton/ac of limestone. NutraLime DG will save you a separate application charge, while not putting pH "hot spots" in the field. NutraLime DG is an excellent alternative to handling large amounts of product and waiting years for the product to become available. For organic or transitioning producers, ask for NutraLime OP, our organic-approved version of NutraLime.
FOR MORE INFORMATION:
Please complete the form, and we'll get you in touch with your Territory Manager from The Andersons.
---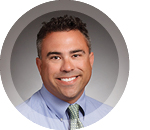 Dave Dyson is a regional agronomist for The Andersons' Farm Centers which are located throughout Ohio, Michigan, and Indiana. He is an Indiana native and grew up on a dairy farm in Miami County. A graduate of Purdue University with a degree in Crop & Soil Science, Dave has a deep knowledge of various agronomic topics and is committed to helping growers improve their crops. If you have any questions, Dave can be reached at david_dyson@andersonsinc.com.
© 2020 The Andersons, Inc. All Rights Reserved. NutraLime is a registered trademark of The Andersons, Inc.