News: Agronomy Alert
Posted on June 24, 2021
---
Our Agronomist, Dave Dyson, was walking fields and noticed a common trend of sulfur deficiency in corn fields. East of the Mississippi has had a constant drizzle of rain for the last 10 days. The rainfall has moved certain easily leachable nutrients out of the root zone. We are seeing these deficiencies show up in the corn planted around the first of May and later.
The corn planted earlier has enough of a root system that it can continue after the leached nutrients. The most notable deficiency documented is sulfur deficiency. As you can see in the images, the deficiency presents as striped leaves appearing on the newest leaves.
The appearance on the new leaves is due to sulfur being immobile in the plant. The root system cannot get anymore sulfur, as a result, the new leaves show the symptoms. Boron is immobile as well in the plant so boron deficiency symptoms will also appear on the newest leaves.
---
To combat the sulfur deficiency, consider applying 2 gallons/acre of Over Pass® 22-0-2, which is included in the John Deere Financing Program. Please reach out to your local representative or Dave Dyson for assistance with scouting or recommendations.
FOR MORE INFORMATION:
Please complete the form, and we'll get you in touch with your Territory Manager from The Andersons.
---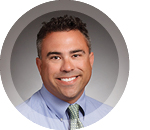 Dave Dyson is a regional agronomist for The Andersons' Farm Centers which are located throughout Ohio, Michigan, and Indiana. He is an Indiana native and grew up on a dairy farm in Miami County. A graduate of Purdue University with a degree in Crop & Soil Science, Dave has a deep knowledge of various agronomic topics and is committed to helping growers improve their crops. If you have any questions, Dave can be reached at david_dyson@andersonsinc.com.
© 2021 The Andersons, Inc. All Rights Reserved. Over Pass is a registered trademark of The Andersons, Inc.