Update from the Field: Never Give Up, Never Surrender
Posted by Dave Dyson, Agronomist on August 19, 2021
---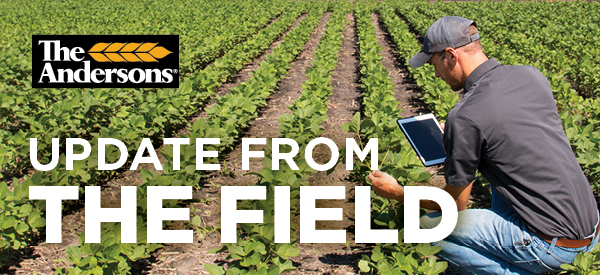 My two favorite movie genres are comedy and science fiction. If you can make a great story that combines these two genres, you'll have me hooked. One movie I have always enjoyed watching is "Galaxy Quest". One of the best quotes in that movie is "Never give up, never surrender." I like to apply that motto when dealing with crop pests and nutrient deficiencies. We have the potential for a huge crop throughout the Corn Belt, and we do not want to squander the massive yield possibility with a late appearance of insect, weeds, disease, or nutrient deficiency pressure.
This year, there has been minimal pressure from harmful insects. However, last week in northern Michigan some fields were beginning to establish populations of soybean aphids, Figure 1. This year, pressures from western bean cutworm egg masses have not been noted, leaving soybean aphids as the main form of insect pressure. If left untreated, soybean aphids have the potential to reduce yield up to 20 bu/acre. The economic threshold of the soybean aphid is 250 aphids per plant. Soybean aphids are born pregnant, which means the population will increase exponentially over a short period of time.
Figure 1: This picture, taken around Oakley, Michigan by Dale Hafner on 8/9/21, shows soybean aphids attacking a soybean plant. The economic threshold is 250 aphids per plant. Weather will have no effect on soybean aphids.
Even late in the season, weed pressure is still a concern. Waterhemp is problematic in many soybean fields across the United States. Occurrences of glyphosate and glufosinate resistance throughout this population is increasing rapidly. The application of XtendiMax® with Vaporgrip® Technology and Engenia® is restricted to application only before June 20th. This restriction limits the options for control of late season waterhemp. Dicamba has around 6 weeks of residual control when applied at higher rates and with optimal weather conditions. Given this, a late June application offers minimal control to suppress waterhemp populations. Planting soybeans with the Enlist®; trait poses no restrictions because applications of Enlist One or Enlist Duo can be applied throughout the entire growing season. By maintaining proper weed control, even late in the season, next year's weed seed bank will be reduced.
Disease pressure will either suppress or break record yields this year. The heavy snow accumulations and thawed ground this winter coupled with frequent rainfall events throughout the growing season has set up the Corn Belt for a bin-busting year. This year's bin buster will become a bust, however, if we leave heavy fungal pressure in corn from northern corn leaf blight, grey leaf spot, and tar spot, Figures 2, 3, and 4, or in soybeans from frogeye leaf spot. There are several reasons for the massive amount of disease attacking corn and soybeans this year. First, last year's tar spot reached into new territory and established inoculate to feed on this year's crop. Second, an above-average amount of moisture and heat early in the season activated the spores. Then, the weather turned cooler and cloudier due to the western fires. These factors and weather conditions allowed the disease to flourish on the crop's tissue. The application of a fungicide will help protect potential yield from the effects of disease.
Figure 2: This picture of northern corn leaf blight was taken around the Waterloo, Indiana, area on 8/10/21. This disease presents as a cigar shaped lesion starting on the lower leaves of the corn plant and progressing up the plant.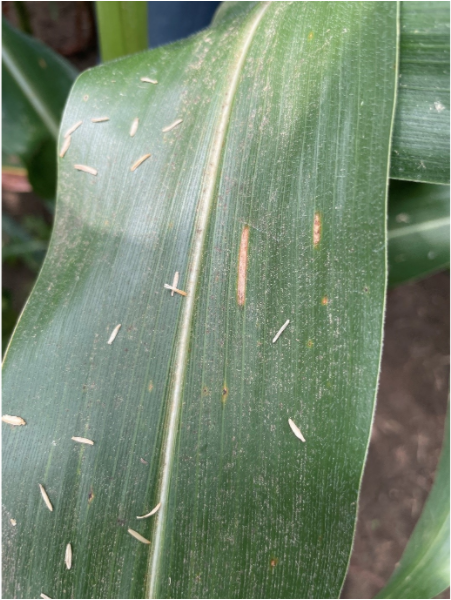 Figure 3: This picture of grey leaf spot was taken around the Waterloo, Indiana, area on 8/10/21. This disease presents as a rectangular shaped lesion starting on the lower leaves of the corn plant and progressing up the plant.
Figure 4: This picture of tar spot was taken around the Waterloo, Indiana, area on 8/10/21. This disease presents as black dots on the leaf,. iIt can start on the lower leaves or the upper leaves of the corn plant.
Finally, nutrient deficiencies will limit overall yield potential if the crop does not have enough nutrition for grain fill. One of the most common deficiencies seen this year has been sulfur deficiency. This year's rainfall events have continued to push water-soluble sulfate in the soil just out of reach of the roots. Applying sulfur is not a one-time event; sulfur should be applied at every opportunity. Over Pass® 22-0-2 provides the slow-release nitrogen, sulfur, and boron the corn plant is craving during the reproductive stages. Over Pass 10-2-10 is a great nutrient supplement to a soybean crop.
In conclusion, don't stop protecting or feeding the crop just because the calendar says it's August. Pests will continue attacking the crop as long as there is green tissue to devour. If the crop has green tissue, it is collecting energy and nutrients to put into the crop. If you have any questions about products or timing contact your trusted Ag Advisor from The Andersons.
FOR MORE INFORMATION:
Please complete the form, and we'll get you in touch with your Territory Manager from The Andersons.
---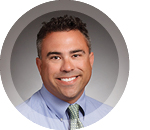 Dave Dyson is a regional agronomist for The Andersons' Farm Centers which are located throughout Ohio, Michigan, and Indiana. He is an Indiana native and grew up on a dairy farm in Miami County. A graduate of Purdue University with a degree in Crop & Soil Science, Dave has a deep knowledge of various agronomic topics and is committed to helping growers improve their crops. If you have any questions, Dave can be reached at david_dyson@andersonsinc.com.
© 2021 The Andersons, Inc. All Rights Reserved. Over Pass is a registered trademark of The Andersons, Inc. XtendiMax and Vaporgrip are registered trademarks of Bayer Group. Enlist is a registered trademark of BASF