Update from the Field: Hauling the Milk
Posted by Dave Dyson, Agronomist on February 17, 2022
---
As I was growing up on my family's dairy farm, the comfort or stress level of our cattle was always front and center. Heat and stress made cattle and kids grumpy. When the cattle were grumpy or stressed out, they never produced milk to their potential. Just as dairy cattle produce milk, the corn kernel will produce milk to fill the kernel. Corn yield is dependent on how much milk is developed in the kernel by the end of the season. Stress during the growing season can reduce the amount of milk that stays in the kernel.
Some parts of the corn plant have funny names like hair roots, ears, silk, and milk. While every part of the corn plant is important, none is more important and subject to stress than the milk that starts to develop at the blister stage, Figure 1, and finishes at physiological maturity, Figure 2. Until physiological maturity, kernel size and yield are dependent on plant stress. By reducing stress at every growth stage, the amount of milk produced can be increased.


Figure 1: This picture shows the blister stage in the corn life cycle. This is when the corn kernel starts to produce "milk".
Figure 2: This picture shows the black layer of cells that the kernel develops at the base during physiological maturity. Once the kernel develops this black layer, plant stress cannot affect yield.
Reducing stress and starting the journey to higher yields starts at planting. Apply an in-furrow row starter in combination with a carbon-based product and a biological product, such as Bio Pass® by The Andersons. This product combination will kick the poly to ortho-phosphorus conversion process into high gear. When phosphorus moves into the plant quickly, the corn plant will emerge faster and begin photosynthesizing.
During the vegetative stages, it is important to supplement nutrition with foliar fertilizers. Phosfix® provides auxins, cytokinins, and gibberellic acid, which encourages overall plant health. Combining Phosfix with a fertilizer, such as MicroBlitz®, at the V4-V6 growth stage can significantly reduce plant stress, thereby increasing the number of rows around the corn ear. Later in the season, when applying a fungicide, add Over Pass® 22-0-2 into the tank mix, which will provide slow-release nitrogen to the plant. Providing nitrogen at this stage will help maximize grain fill.
In conclusion, if we can reduce stress during the growing season at every stage, we can expect the corn yield at harvest to be maximized. Remember, herbicides, insecticides, and fungicides can only protect the yield, but supplementing nutrition with fertilizer by The Andersons can increase yield by reducing stress and adding critical nutrients. If you have any further questions about timing or placement of stress relieving crop inputs, contact your local Trusted Ag Advisor from The Andersons.
FOR MORE INFORMATION:
Please complete the form, and we'll get you in touch with your Territory Manager from The Andersons.
---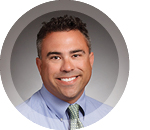 Dave Dyson is a regional agronomist for The Andersons' Farm Centers which are located throughout Ohio, Michigan, and Indiana. He is an Indiana native and grew up on a dairy farm in Miami County. A graduate of Purdue University with a degree in Crop & Soil Science, Dave has a deep knowledge of various agronomic topics and is committed to helping growers improve their crops. If you have any questions, Dave can be reached at david_dyson@andersonsinc.com.
© 2022 The Andersons, Inc. All Rights Reserved. Bio Pass, Phosfix, MicroBlitz, and Over Pass are registered trademarks of The Andersons, Inc.