Update from the Field: Rain, Rain Go Away!
Posted by David Dyson, Agronomist on November 20, 2017
---
The persistent rainy weather this fall has been very stressful to anyone trying to get crops out of the field or trying to get chemicals and fertilizer back on the field. In previous articles, I stressed the importance of applying dicamba in the fall to prevent hard to control weeds (such as mairstail and dandelion) from getting out of hand. Applying dicamba in the fall will also help control winter annuals such as chickweed and purple deadnettle. Controlling winter annuals will not only allow the soil to dry out faster in the spring, but it will also prevent hosting the soybean cyst nematodes over winter. Without a host, the populations will decrease.
If chemicals are not applied this fall due to continuous rainfall followed by frozen soil conditions, there is an alternative. As of last year, dicamba resistant soybeans are available. If you take advantage of the new dicamba resistant soybean varieties, we can continue spraying dicamba next spring without worrying about planting restrictions. This will not prevent the hosting of the soybean cyst nematodes, but it will kill tough weeds that 2,4-D and Sharpen® herbicide have had difficulty controlling. Soybean cyst nematodes can be controlled with seed treatment, and the price of the treatment can easily be justified with a simple soil test. Soybean cyst nematode soil tests should be taken in late August or early September when signs of sudden death syndrome begin to show.
By applying a dicamba product this fall, you will greatly increase the control of tough weeds next year. If the rainfall and frozen conditions prevent herbicide application this fall, plant a dicamba resistance variety. This will allow for an application of dicamba at burndown next spring with no planting restrictions on your soybeans.
Summary:
Plan on spraying dicamba in the fall
Spray dicamba in the spring in front of dicamba resistant soybeans
---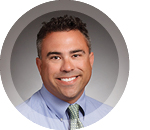 Dave Dyson is a regional agronomist for The Andersons' Farm Centers which are located throughout Ohio, Michigan, and Indiana. He is an Indiana native and grew up on a dairy farm in Miami County. A graduate of Purdue University with a degree in Crop & Soil Science, Dave has a deep knowledge of various agronomic topics and is committed to helping growers improve their crops. If you have any questions, Dave can be reached at david_dyson@andersonsinc.com.
---
Sharpen is a registered trademark of BASF Corporation.