Update from the Field: Will La Niña Take a Siesta
Posted by David Dyson, Agronomist on April 16, 2018
---
This post may reference products and/or services only available to our Retail Farm Center customers. For more information contact your Territory Manager at The Andersons.
The crazy, non-spring weather is the talk of the town everywhere you look today. Here it is, the middle of April, and there is still snow in the forecast. Like it or not, this is very normal and was predicted last fall. It's La Niña's fault!
La Niña is not your crazy ex-girlfriend, hanging around for a couple of years to create havoc in your life, but a weather system first discovered back in the 1920's. According to Gregory T. Cushman of Southwestern University in Georgetown, Texas, Gilbert Walker identified a periodic variation in atmospheric pressure over the Indo-Pacific which he christened the "Southern Oscillation" (Figure 1). In the 1950's, the study was expanded by Jacob Bjerknes to include oceanic temperatures, in an effort to try and predict variations in Pacific tuna distribution. One might ask what Indian air pressure and tuna fishing have to do with poor weather in the U.S. Again, I like to blame La Niña!
Figure 1: This is a great depiction of the Southern Oscillation or Walker Circulation from NOAA during the La Niña cycle.
The Pacific Ocean goes through temperature phases from time to time. Weather gurus like to look at the region across the east-central and eastern equatorial Pacific Ocean to compare water temperature anomalies. The La Niña phase is when the ocean temperatures between Peru and the International Date Line fall below the long-term average. This phenomena can last up to two years and can create cooler and wetter conditions for the northern U.S. (Figure 2). On a good note, we are coming up on having enjoyed two years with the lovely La Niña, and the equatorial waters are warming off the coast of Peru, so all indications are that we will be moving out of this La Niña cycle by the end of May. This does not help with 2018 spring planting, however, which looks to repeat last year's cold and wet conditions.
Figure 2: This depiction from NOAA shows how La Niña can effect North American weather.
In conclusion, this weather pattern, although not comfortable, is normal and was predicted. La Niña continues to weaken and is predicted to end by late May. This spring looks to have an extremely compressed planting window, which will wreak havoc on producers and their labor allocations. The cool, wet spring will slow the uptake of nutrients into crops as well.
The Andersons can help with both your labor needs and getting your crop out of the ground quickly. We can supply you with highly-effective and efficient products which will reduce gallons per acre and fill-up time, while supplying crucial nutrients quickly to the seedlings. We can also provide application services for dry and liquid products, which will free-up producers' time to concentrate on getting that seed in the ground. Contact your local Ag Advisor to put a spring plan together. Don't be left out in the rain. Get your crops in the ground on time.
---
FOR MORE INFORMATION:
Please complete the form, and we'll get you in touch with your Territory Manager from The Andersons.
---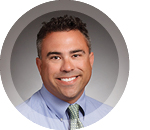 Dave Dyson is a regional agronomist for The Andersons' Farm Centers which are located throughout Ohio, Michigan, and Indiana. He is an Indiana native and grew up on a dairy farm in Miami County. A graduate of Purdue University with a degree in Crop & Soil Science, Dave has a deep knowledge of various agronomic topics and is committed to helping growers improve their crops. If you have any questions, Dave can be reached at david_dyson@andersonsinc.com.
---