Update from the Field: Déjà Vu All Over Again
Posted by David Dyson, Agronomist on May 08, 2018
---
This post may reference products and/or services only available to our Retail Farm Center customers. For more information contact your Territory Manager at The Andersons.
We had a good ten days of decent planting conditions before the rain shut everything down. Now I sit here looking out of my office window, pondering how much rain we will get and when we will get back on these water logged fields. As the great philosopher Yogi Berra once said, "It's déjà vu all over again." It looks as if we will be planting into cool, wet soils again this year. If the weather pattern continues to mimic last year, we should expect large rainfall events this spring.
Excessive rainfall is not the end of the world, but it is a problem. With any problem in agriculture, we need to recognize it and find a solution. The situation we face with too much rain at one time is the leaching of nitrates out of the soil (Figure 1), leaving the crop deficient and reducing the crop's potential yield. Leaching nitrogen is not only bad for producers' pocket books, it can also be problematic for aquatic life in our streams, rivers, and the Gulf of Mexico. It may not be long before the government steps in and regulates the amount of nitrates allowed to flow down our waterways. Indiana has already set goals of reducing the nitrates leaving the state via streams and rivers at 20% by 2025 and 45% by 2035.
Figure 1: The Nitrogen Cycle visualized by Dow Chemical shows nitrogen being applied in the ammonium (NH4) form and being converted to nitrate (NO3) by the soil organisms and leaching down and out of the soil or up and out through denitrification.
As planting progress continues (Figures 2 & 3), producers will be applying the majority of their nitrogen to the fields from now through the next month. When applying nitrogen, we need to remember crops can uptake nitrogen in two forms, nitrate (NO3) and ammonium (NH4). If the nitrogen can stay in the ammonium form as long as possible, the crop can use the nitrogen before leaching occurs. We need to add something to stabilize the nitrogen and help producers keep what they put on the field in the field.
Figure 2: This map shows the USDA estimate of percent corn planted as of 4/29/18. Source: AgWeb
Figure 3: USDA estimates for corn planting as of 4/29/18. Source: AgWeb
The Andersons makes a product, UltraMate® LQ, which mixes very easily with liquid nitrogen and is applied at a rate of 1-3 gallon per acre. UltraMate LQ contains 12% humic acid, which is a sulfonated potassium humate derived from leonardite. It completely mixes when added directly to liquid fertilizer, micronutrient, or pesticide formulations over a wide range of pH values. UltraMate LQ allows plants to utilize applied N, P, and micronutrients more efficiently, reducing leaching and improving soil structure. UltraMate LQ stabilizes nitrogen and reduces volatility when used with 2x2-placed starter, sidedress, or weed and feed.
In conclusion, just like in 2017, La Niña is still affecting our weather pattern. We should expect rainfall events that produce large amounts of rain. This can be managed by following the 4R Nutrient Stewardship philosophy for fertilizer application: using the right rate, with the right product, at the right time, in the right place. If you have any questions on which products to use and at what rates to use them, please contact me directly or another representative from The Andersons.
Soil Temperature Update
Below are average soil temperatures from corn residue and cover crop (crimson clover and radishes) plots at our Waterloo, IN Farm Center over the past week.
---
FOR MORE INFORMATION:
Please complete the form, and we'll get you in touch with your Territory Manager from The Andersons.
---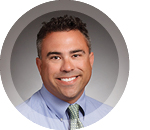 Dave Dyson is a regional agronomist for The Andersons' Farm Centers which are located throughout Ohio, Michigan, and Indiana. He is an Indiana native and grew up on a dairy farm in Miami County. A graduate of Purdue University with a degree in Crop & Soil Science, Dave has a deep knowledge of various agronomic topics and is committed to helping growers improve their crops. If you have any questions, Dave can be reached at david_dyson@andersonsinc.com.
---
UltraMate is a registered trademark of The Andersons, Inc.