Update from the Field: Pain in the Pod
Posted by David Dyson, Agronomist on July 02, 2017
---
This post may reference products and/or services only available to our Retail Farm Center customers. For more information contact your Territory Manager at The Andersons.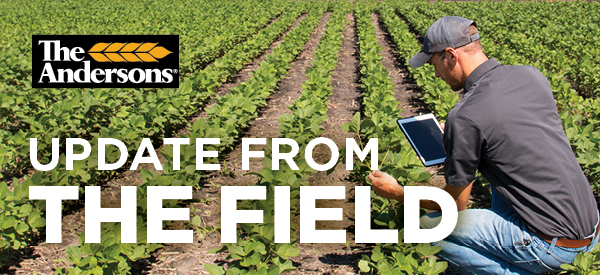 As we celebrate July 4th with BBQs and gathering with family and friends, keep one eye on your soybean fields. I am starting to get reports from Michigan that producers are finding increasing numbers of soybean aphids (Figure 1). The research-based economic threshold to apply insecticides for soybean aphids is 250 aphids/plant. This threshold is important, as it will not only prevent an unnecessary insecticide application, it will also prevent applying the insecticide too early, which may cause a new flush of pests to repopulate the soybeans.
Figure 1: Soybean aphids are born pregnant, resulting in an explosion in population. This picture was taken on 4/19/18 in a northern Indiana greenhouse.
If an insecticide is applied and the aphid population either never dies or rebounds, there could be a resistance issue. In 2017, some soybean aphids were documented as having resistance to pyrethroid insecticides. These broad-spectrum insecticides have been widely used for soybean aphid control for many years. Producers and agriculture advisors love this group of insecticides for their potential 15 days' worth of residual. As soybean aphids develop resistance to this group of insecticides, we will have to start switching to an organophosphate insecticide.
Organophosphates, chlorpyrifos (Lorsban®) is still very effective against soybean aphid populations. This insecticide does not have a long residual, and volatilization is increased in warm weather. Soybean aphids can recolonize chlorpyrifos-treated fields within a few days. With reported pyrethroid failures, this is one preferred option for first application or when re-treating a field whose aphid population rebounded after a pyrethroid application.
In addition, don't short-change nutrient needs. Potassium contributes to disease resistance due to the relationship between potassium and nitrogen in the plant. Potassium-deficient plants are often high in nitrate, and high nitrates attract insect pests such as soybean aphids. Tank mixing 1-2 gal/ac of Korrect™ low-salt potassium liquid fertilizer while applying herbicides, insecticide, or even fungicides can not only increase potassium in the plant, but may deter aphids from attacking.
In conclusion, soybean aphids can be a challenging pest, but one that can be managed. The greatest tool a producer or agriculture advisor can use is his or her own eyes. Soybean fields should be scouted through V6. If the soybean aphid population starts to increase, and reaches or surpasses the economic threshold, don't delay -- spray today. If you have any questions, please contact me or an Ag Advisor from The Andersons. We would be more than happy to work with you on a recommendation to correct your pest problem.
---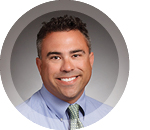 Dave Dyson is a regional agronomist for The Andersons' Farm Centers which are located throughout Ohio, Michigan, and Indiana. He is an Indiana native and grew up on a dairy farm in Miami County. A graduate of Purdue University with a degree in Crop & Soil Science, Dave has a deep knowledge of various agronomic topics and is committed to helping growers improve their crops. If you have any questions, Dave can be reached at david_dyson@andersonsinc.com.
---
Lorsban is a registered trademark of The Dow Chemical Company. Korrect is a trademark of The Andersons, Inc.