Update from the Field: Put Back What You Take
Posted by Dave Dyson, Agronomist on October 02, 2018
---
This post may reference products and/or services only available to our Retail Farm Center customers. For more information contact your Territory Manager at The Andersons.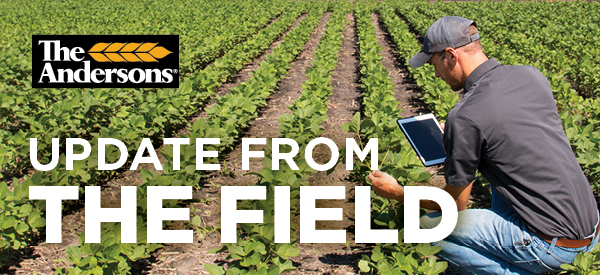 Record yields have placed higher nutrient demands on the soil, and, if yield trends continue, the demand for soil nutrients will also increase. The harvest in the southern Cornbelt indicates a huge crop will be taken off the fields this fall. Early results from the field show 200+ bushel per acre corn yields and 70+ bushel per acre yields for soybeans. This leads to many questions. Are you aware of nutrient removal rates? Are you adequately replacing removed nutrients? As Roy Orbison muses in his song "Mother", "To balance out your portion, You must put back what you take."
A bushel of corn removes about 0.75 lb nitrogen, 0.37 lb P2O5, and 0.27 lb K2O from the soil. A bushel of soybeans will remove 4 lbs nitrogen, 0.8 lb P2O5, 1.4 lbs K2O (Figure 1). Based on yields I have been hearing so far this year, in a corn-soybean rotation of 200 bushel/acre corn and 70 bushel/acre soybeans, it would require 249 lbs MAP/ac and 253 lbs potash/ac to replace the P and K removed in the harvested grain. As yields approach 250 and 90 bu/ac for corn and soybeans, respectively, it will require nearly 315 lbs MAP/ac and 322 lbs potash/ac to replace the nutrients removed and avoid soil test reductions. Applying fewer nutrients than are removed in the grain will cause soil test levels to decline over time. In many cases, fields with declining soil test levels may no longer be able to sustain the most profitable yield levels, especially when conditions are right for above-average trend-line yields.
Figure 1: Tri-state crop nutrient removal rate table.
It is important to keep in mind that crops require higher amounts of nutrients than just those removed by the grain at harvest. Nutrients from the soil and added fertilizers supply these uptake needs. Around eighty percent of the P and forty percent of the K taken up by corn and soybeans are removed in the grain. The good news is that the additional nutrients are retained in the stover and are recycled for future crops. This stover may take up to three years to release all the stored nutrients. Applying UltraMate® LQ sulfonated potassium humate liquid to the residue this fall will help quicken the release, making these stored nutrients more available to next year's crop.
In conclusion, we need to recognize that the standard 100lb/ac of MAP and 200lb/ac of potash will not work this year. When we pull big yields off the soil, we have to refill the nutrient tank of the soil. If we just keep with the standard rates and do not adjust for increased yields, we run the risk of deficiency symptoms showing up in next year's crop. Applying UltraMate LQ this fall will help break down the massive amount of residue left by a monstrous crop and release stored nutrients quickly back to the soil.
FOR MORE INFORMATION:
Please complete the form, and we'll get you in touch with your Territory Manager from The Andersons.
---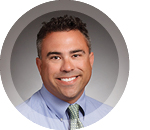 Dave Dyson is a regional agronomist for The Andersons' Farm Centers which are located throughout Ohio, Michigan, and Indiana. He is an Indiana native and grew up on a dairy farm in Miami County. A graduate of Purdue University with a degree in Crop & Soil Science, Dave has a deep knowledge of various agronomic topics and is committed to helping growers improve their crops. If you have any questions, Dave can be reached at david_dyson@andersonsinc.com.
---