Update from the Field: Rain, Rain, Go Away!
Posted by Dave Dyson, Agronomist on June 13, 2019
---
The post may reference products and/or services only available to our Retail Farm Center customers. For more information contact your Territory Manager at The Andersons.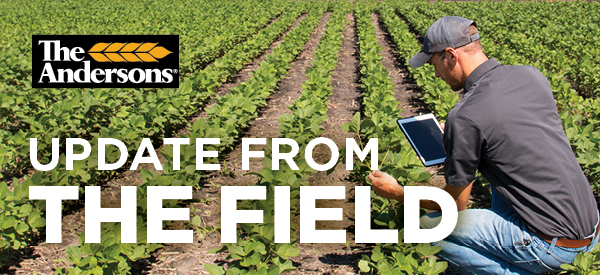 Corn planters rolled last week on what dry ground could be found, to beat the prevent plant date. Now that the seed is in the ground producers are asking, "If the rain keeps coming, how will flooded soils affect my corn?" The short answer is, "It depends." The University of Nebraska published an article from Canada explaining the effects of flooded soils on a variety of corn stages (Chahal, P.S. and A.J. Jhala. Canadian J. of Plant Science. 96(4): 613-620). According to their research, there are three scenarios that may result from flooded seedlings, similar to what we are facing this season.
Scenario 1: Last week we received the most consecutive days without rain since April 25th, and many producers power planted as many acres as possible before the prevent plant deadline. Now, the rain has started again, and the soil is very saturated or flooded. What percentage of corn can we realistically expect to germinate and emerge without dying from hypoxia or disease? A single day of flooding should have no impact on emergence, but seedling emergence will be reduced by 23%, 95%, and 100% for 2-day, 4-day, and greater than 4-day flooding, respectively. Seeds will not germinate or emerge if subjected to more than four days of flooding.
Scenario 2: Corn planted a month ago during an open window in the rain is currently at V2-3. A recent gully washer has now put a couple of inches of rain over the field. If you can no longer see the soil, and where the field was once is now a lake, the possibility of this corn crop surviving greatly depends on the duration of the flood. The plant shuts down once deprived of oxygen. The shoot and root biomass, plant height, stomatal conductance, and chlorophyll in the leaves decrease within five days of the soils flooding. The soil goes through changes as well. Within two days of flooding, the soil pH will increase. The soil will also reach anaerobic conditions very quickly, making soil nitrate susceptible to the denitrification process. The study shows that if saturated soils last for three days or less, the corn plants have a 66% chance of survival; if the flooding lasts five days, 100% of the corn plants died.
Scenario 3: Nitrogen was applied pre-plant or at planting and now is receiving heavy amounts of rain. Should the producer be worried about the loss of nitrogen through either leaching or denitrification? This is where performing a PreSidedress Nitrate Test (PSNT) will become invaluable. A PSNT is a simple and inexpensive soil test taken 12 inches down. The results will provide a snapshot of the amount of nitrate that remains in the soil. If the test shows the nitrate level is too low, there is time to add more nitrogen to the root zone. If additional UAN is applied, the use of 1-2 gal/ac of UltraMate® LQ or Zn will stabilize and hold the nitrogen for the crop to use.
In conclusion, be vigilant; staying on top of the soil moisture conditions and the emerging crop will give a timely rescue option if additional nitrogen needs to be applied or replants need to be addressed. Contact your local representative from The Andersons for information on performing a PSNT and for options if saturated soils are in your area.
---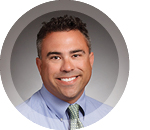 Dave Dyson is a regional agronomist for The Andersons' Farm Centers which are located throughout Ohio, Michigan, and Indiana. He is an Indiana native and grew up on a dairy farm in Miami County. A graduate of Purdue University with a degree in Crop & Soil Science, Dave has a deep knowledge of various agronomic topics and is committed to helping growers improve their crops. If you have any questions, Dave can be reached at david_dyson@andersonsinc.com.
UltraMate is a registered trademark of The Andersons, Inc.