Update from the Field: The Enemy Below
Posted by Dave Dyson, Agronomist on September 18, 2019
---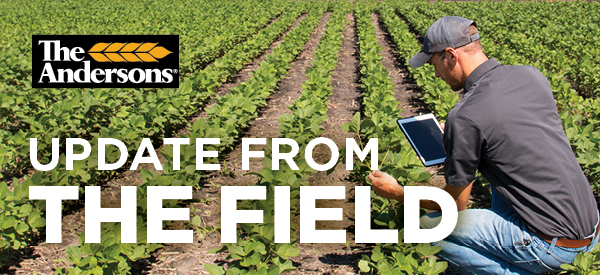 Similar to the storyline in the 1957 Robert Mitchum movie "The Enemy Below," the soybean producer is in a life or death struggle with a nemesis they cannot see. The soybean cyst nematode (SCN), Heterodera glycines, is the single most damaging pest affecting soybean production in the United States and most of the other top soybean-producing countries in the world. Losses have been estimated at about $1.5 billion in the United States alone. Soybean cyst nematodes are microscopic, soil-borne worms present in approximately 75% of the fields in the Corn Belt. The presence of soybean cyst nematodes can reduce soybean yield by 50% or more.
Historically, conventional wisdom has been that in order to prevent an explosion in the soybean cyst nematode population, a farmer should rotate out of soybeans to grass crops such as corn, wheat, and/or cover crops like rye or oats for a minimum of two years. This will work if you can control other host plant species, such as weeds that can be plentiful in grass rotations. If soybean cyst nematodes have a host to colonize while the soybean crop is not growing in the field, rotating into a grass crop will have no effect on the nematode population. Figure 1 shows a chart from the University of Nebraska, outlining which plants will host and which plants will not host this pest.​​​


Figure 1: Table from the University of Nebraska showing which plants will and will not host soybean cyst nematodes
Planting soybean cyst nematode-resistant varieties is possible. However, Dr. Jamal Faghihi from Purdue University's Nematology Laboratory has found that resistant soybean varieties are not controlling the population like they once did. Of all options, seed treatments have shown the most control where you know there is a high infestation of nematodes. To determine if you need to buy treated seed requires some forward-thinking such as scouting for diseases carried by SCN, and testing soils for this destructive pest.
Testing for soybean cyst nematodes is as easy as pulling a soil fertility test, and requesting the proper SCN counts from the lab. Sudden death syndrome (Figure 2) is a fungal disease that can be spread to the soybean plant by soybean cyst nematodes. This disease usually shows its ugly head later in the season. We need to be out scouting our soybean fields starting now to find the location of sudden death syndrome before the soybeans lose their leaves. If we pull our soil samples where we find sudden death syndrome, we will not have to guess where the "hot" pockets of nematodes reside.​​​


Figure 2: Sudden death syndrome identified in a soybean plant. Sudden death syndrome will always present with interveinal chlorosis. This picture was taken in 2017 around Walton, IN.
In conclusion, soybean cyst nematodes will always play some role in soybean production. How much yield they suppress is completely up to the producer. Just as in preventing weed resistance, controlling soybean cyst nematodes should be a four-prong attack:
Rotate to a grass crop once or twice between soybean crops.
Control host weeds, even in the winter.
Plant soybean cyst nematode-resistant variety soybean seed.
Treat your soybean seed with a nematicide.
Contact your local ag advisor from The Andersons for help with testing nematodes this fall and making seed decisions for the 2020 soybean crop.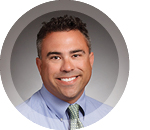 Dave Dyson is a regional agronomist for The Andersons' Farm Centers which are located throughout Ohio, Michigan, and Indiana. He is an Indiana native and grew up on a dairy farm in Miami County. A graduate of Purdue University with a degree in Crop & Soil Science, Dave has a deep knowledge of various agronomic topics and is committed to helping growers improve their crops. If you have any questions, Dave can be reached at david_dyson@andersonsinc.com.