Farm Centers: Spring Checklist
Posted by Jessica Link, Product Specialist on April 02, 2020
---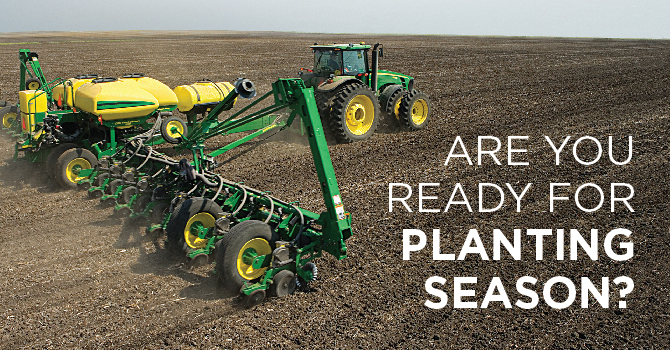 Make sure you are fully prepped for the season to ensure a strong start. With the checklist below, we hope some of your stress can be alleviated both before and during the season.
1. Prepare for planting season safely
Be mindful as you drive equipment on roadways. Exercise caution when making left turns to avoid collision with traffic that may attempt to pass. Always be sure to keep equipment up to date with the latest safety features, educating others on the roadway that you are driving a slow-moving vehicle.
During planting season, long hours are to be expected in an effort to "get it all done." Do not overlook the importance of adequate rest and not skipping meals. When sleep and nutrition are lacking, fatigue will set in, leading to a delayed response time. It is essential to remain on top of your game to ensure safety for yourself and others.
2. Take soil samples and send into your local laboratory
A rule of thumb is to soil sample fields every two years. Doing this maintains accurate fertilizer recommendations, allowing fertility to meet crop needs. Farm Center locations offer precision soil sampling services. Our precision soil sampling program utilizes zone-sampling techniques. By zone sampling, soil samples are pulled from individual soil types. Sampling by this method is more effective than grid sampling because every individual soil type is recognized, rather than samples being pulled from a set grid pattern, Figure 1.
Figure 1: When soil sampling by zone, samples are pulled based on individual soil type rather than by a set grid pattern. This allows for more accurate fertility recommendations.
3. Apply your fertilizer with variable rate technology.
Before planting, ensure dry nutrients such as urea, potash and MAP or DAP are applied. Application utilizing variable rate technology (VRT) of these nutrients will ensure all areas of the field are fertilized to achieve optimum fertility conditions of the crop. This method of application will ensure no area of the field is under or over-applied.
4. Apply a seed treatment
Treating seed is one of the easiest ways to reduce risk during the planting season. When planting treated seed, you will benefit from below and above ground protection against various early season pests and diseases. Our Farm Center locations offer custom seed treatment facilities.
5. Include a low-salt starter at planting
A low salt starter is essential to achieving three goals: quicker emergence, faster pollination and drier crops at harvest. Our top of the line liquid low-salt starters provide unquestioned performance year-over-year in the field. InfuraMax ™ is our proprietary low-salt starter, exclusive to our Farm Center locations. InfuraMax features a 7-23-4 + 1.0S, 0.5Zn analysis and 100% orthophosphate. Phosphorus in the orthophosphate form is immediately available for plant uptake, even in cold soils.
In 2019, when InfuraMax was applied at a rate of 5gal/acre. The corn on the right received the InfuraMax treatment and tasseled 7-10 days earlier than the check which received no starter.
6. Ask your representative about the right starter additive to meet your needs
Including a reliable starter additive helps to increase the efficiency of starter fertilizer and provides additional nutrients essential to early season crop development. MicroCarb ZMB™ is designed to be applied with starter and is a unique blend of fulvic acid and micronutrients. The fulvic acid component aids in delivery of nutrients, maximizing the effectiveness of applied nutrients. MicroCarb ZMB is also formulated with zinc, manganese and boron. These three micronutrients are essential for early crop development and play roles in various plant physiological processes.
Over the course of 57 trials with MicroCarb ZMB in corn, a positive yield advantage was observed 88% of the time over the untreated control. The above graph is a compilation of all corn trials involving MicroCarb ZMB from years 2014-2019. Test locations include CO, NE, WI, IL, IA, MN and OH.
While there are many additional items to consider, utilizing this checklist while preparing for planting season will provide guidelines for success. Fill out this form, to contact your local Farm Center.
---
© 2020 The Andersons, Inc. All Rights Reserved. MicroCarb ZMB and InfuraMax are trademarks of The Andersons, Inc.