To enhance the genetic potential of seeds and promote microbial activity in the seed furrow, it is important to utilize an additive with low-salt starter applications. The Andersons offers numerous additives, each formulated for different agronomic needs. Outlined here are three of our favorites. If you need help selecting the right additive for your needs, contact us.
---


MicroCarb contains carbon substances from vegetable origin that increase soil cation exchange capacity, improving nutrient availability. MicroCarb is a great choice for growers looking for the benefits of fulvic acid and need additional zinc, manganese, and boron. The new, improved formulation provides increased compatibility with a wider range of products. Over the course of 102 trials with MicroCarb in corn, a positive yield advantage was observed 79% of the time over the untreated control (Figure 1).
Figure 1: A compilation of all corn starter trials involving MicroCarb from years 2014-2020. Test locations include: CO, NE, WI, IN, IL, IA, MN and OH.
Starter application instructions: Mix 1-2 quarts of MicroCarb with starter fertilizer and apply at planting.
---


Bio Pass is a robust microbial package specifically designed to work in synergy with your liquid starter fertilizer program for corn and wheat. Bio Pass's specialized blend of bacteria works together in the soil to help kickoff seedlings' early season growth while enhancing the uptake of nitrogen, phosphorus, potassium and other essential nutrients throughout the season.
In a Nebraska corn field trial, a 4+ bu/ac yield advantage was observed with Bio Pass added to the liquid starter application at planting.
---


For 2x2 conventional starter applications needing zinc, consider Tri Z Pro. Tri Z Pro is a powerful combination of nitrogen, sulfur, zinc, and ammonium acetate. With three sources of zinc, Tri Z Pro is formulated to provide immediate availability and sustained release of zinc for the crop. The unique and synergistic combination of zinc and ammonium acetate stimulates the plant to generate a more extensive root system to better utilize available nutrients and soil moisture.
Tri Z Pro is designed for use in ammonium polyphosphate-based fertilizer and/or UAN application.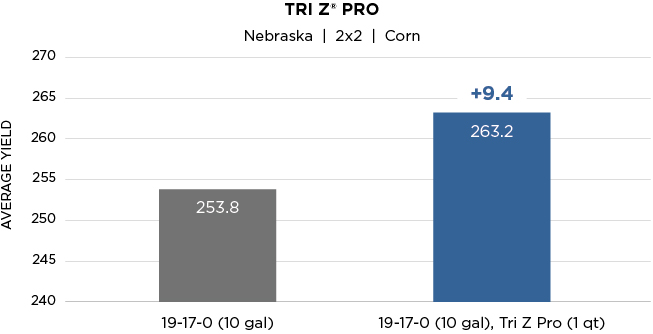 In 2021 in Nebraska, Tri Z Pro was applied at a rate of 1qt/acre in 2x2 placement with 19-17-0. At harvest, the treatment yielded a 9.4 bu/acre advantage compared to 19-17-0 alone.
---
ADDITIONAL RESOURCES:
New Year. New Season. Same Proven Results.
The Andersons Biological Products - a new lineup designed for ease-of-use, efficiency, and ROI
Meet The Andersons Biological Product Line-Up
Maximize Fertility with Bio Pass!
Top 10 reasons to add Bio Pass to your liquid starter fertilizer

---
Contact us today to locate your nearest dealer.
©2022 The Andersons, Inc. All rights reserved. MicroCarb, Season Pass, Bio Pass, and Tri Z are registered trademarks of The Andersons, Inc.